HerMeNow 2023 Accelerator
Meet the 40 Teams Heading to HerMeNow's 2023 Bootcamp
Training, mentorship, and a lifetime of opportunities await the chosen few.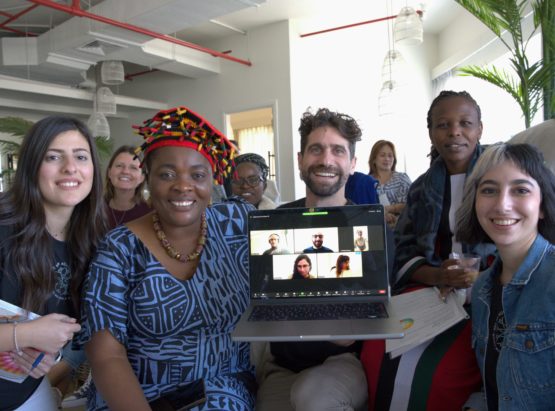 What's in Store for the Bootcampers?
The 40 teams selected for HerMeNow's 2023 Accelerator Bootcamp are in for an unparalleled experience. They'll undergo intensive training to sharpen their business acumen, and benefit from personalized mentorship sessions with industry experts. But that's not all—each team also gains lifetime access to Bloom's invaluable resources, as well as an extended network of entrepreneurs, mentors, and investors through HerMeNow.
What Are They Competing For?
The stakes are high and the rewards are even higher for the 40 teams in HerMeNow's 2023 Accelerator Bootcamp. More than just a chance to fine-tune their business strategies, these teams are vying for an incredible package of resources and opportunities. From securing investment deals to gaining exclusive mentorship from industry leaders, the competition is fierce. They'll also be granted lifetime access to Bloom's resource hub and HerMeNow's extensive network of successful entrepreneurs, mentors, and investors.

Kenya | Clean Water & Sanitation
Ayshah Purified Water 'Kiu Maji Safi' in Kashani, Mombasa, addresses water scarcity by providing affordable refills. A vital resource for local schools, vendors, truckers, and families, it elevates clean water access in this underserved community.
Tanzania | Clean Water & Sanitation
Belta, a innovative social enterprise transforming discarded paper from schools and offices into eco-friendly products like exercise books and bags. By diverting waste, it reduces air pollution and contributes to a more sustainable future.
Blue & Green Entrepreneurs
They empower young Kenyans and women in rural areas for climate adaptation & environmental care. Focused on enhancing soil, conserving biodiversity, and food security, the group equips locals with tools to tackle climate challenges.

Taking a strong stand against period poverty and environmental waste, Caryle Enterprises diligently recycles discarded textile scraps into reusable sanitary pads. It serves as a vital resource for those in need while also effectively curbing greenhouse gas emissions.

Egypt | Responsible Consumption & Production
Dayra sells affordable, quality second-hand clothes online. It collaborates with designers to upcycle flawed items, promoting sustainability and social responsibility. A portion of proceeds supports developmental causes, offering a guilt-free shopping and reselling experience.

Mozambique | Sustainable Cities & Communities
Ethalo Haca provides biodegradable, edible takeaway containers made from cassava flour, offering a gluten-free, eco-friendly alternative for consumers. The innovative approach has the potential to eliminate such waste entirely, as the containers can be consumed.

Sub-Saharan Africa | Climate Action
FishBox operates as a marketplace for fish and feeds, aiming to empower women in fishing communities to be more climate-resilient. The platform provides a sustainable supply chain, supporting both economic growth & environmental stability.
Furies Enterprise, led by five women, focuses on educating about plastic pollution via game boards. These interactive tools aim to inform all ages and inspire sustainable behavior. They run campaigns, empowering others for a more sustainable future.

Egypt | Sustainable Cities & Communities
Gargeera promotes urban rooftop gardens, aiming at environmental, economic, and food sectors. It creates jobs and markets for crops. Targeting medium to low-income households, it offers profit-sharing for both economic and environmental benefit.

Gotabet Nurseries in Kenya supplies avocado and macadamia seedlings, also producing macadamia nuts. The enterprise focuses strongly on agroforestry, land restoration, and offers comprehensive farmer training for poverty alleviation.

South Africa | Affordable & Clean Energy
GreatFuel converts waste vegetable oil from restaurants into biodiesel, targeting companies keen on environmental sustainability. With a mission to foster a green economy and reduce carbon emissions, it offers an eco-conscious fuel alternative.

South Africa | Zero Hunger
GrowBox focuses on enhancing food sovereignty by providing skills, resources, and community support for organic, sustainable food gardens. The enterprise aims to strengthen local food systems while promoting ecological balance.

MENA | Good Health & Well-being
Hazel Farm combines innovative farming and interactive entertainment in its "Agritainment" concept. Guests engage in planting, harvesting, and farm-to-table meals, gaining insights into organic food & environmental sustainability.

Imani Collective exceeds fair trade standards, empowering artisans with ethical salaries and benefits like childcare and meals. More than a transactional brand, it aims for long-term job stability, career growth, and sustainable change for artisans.
MENA | Affordable & Clean Energy
X Pure Power develops biogas systems that transform organic waste into clean energy. Serving diverse clients, it aims to reduce food waste & greenhouse emissions. They offer a sustainable energy alternative and contribute to waste reduction goals.
Sub-Saharan Africa | Affordable & Clean Energy
Jasiri focuses on research & knowledge sharing for urban environmental sustainability. Through public-private partnerships, they aim to boost resilience in vulnerable communities. Investing in energy, sustainable housing, and eco-friendly food.

Sub-Saharan Africa | Climate Action
Khwezi Innovations is a startup focused on green living through inventive, scalable solutions. The company identifies climate change and sustainability issues, then co-creates innovative approaches to tackle these challenges, aiming for a more eco-friendly future.

Tanzania | Life Below Water
Libe Green Innovation, founded in 2018, aims to combat plastic pollution in oceans. Based in Tanzania, its vital mission is to achieve zero waste while creating local job opportunities through eco-friendly solutions and products, striving for a sustainable, cleaner future.
Little Lillies (Tombo Agri-Con)
Tombo Agri-Con Agencies, a women-led venture, uplifts communities through honey production and its value chain. They make body cream, soap, & candles from bee wax, while dead bees feed poultry. This approach creates income and promotes sustainability.

Sub-Saharan Africa | Gender Equality
Mickal41, a women-owned social enterprise, specializes in making reusable menstrual pads. By focusing on advocacy, training, and distributing sanitary kits, they aim to combat period poverty and stigma, fostering both women's health and environmental sustainability.

Sub-Saharan Africa | Affordable & Clean Energy
Mpito Energy, founded in June 2022, collaborates with coastal Kenyan communities to promote clean cooking solutions. The startup trains women and provides sample cookstoves, empowering them to introduce eco-friendly practices across diverse communities.

Kenya | Good Health & Well-being
At Ndogo Farms, they skillfully convert small, underutilized urban spaces into productive gardens using eco-friendly fabrics. This innovative approach allows city dwellers to enjoy easy access to fresh and organically grown food right in their own homes.
Ethiopia | Clean Water & Sanitation
Peace is a compassionate social enterprise devoted to uplifting women and the elderly in their community. By creating affordable, reusable sanitary products, Peace aims to foster a life of dignity and comfort for these vulnerable groups.

South Africa | Good Health & Well-being
Prim-U is a B2B marketplace in the beauty and wellness industry, connecting suppliers and service providers with customers. The platform streamlines supply chains for natural cosmetic ingredients, boosting income opportunities for all.

Roak Swahili Wear empowers unemployed women and youths through training in leather craftsmanship and sandal design. The company fosters economic independence and gender equality while producing high-quality, socially conscious, artisanal leather sandals.

She Farm (Kalinasho Trading)
Namibia | Responsible Consumption & Production
Kalinasho Trading Enterprises/She Farm is a Namibian company, focusing on natural, local agricultural products. With a 10-person team, they produce items like Mahangu millet flour, Eembe Jam, and Aloe Vera products. They cater to Retailers, Wholesalers & others.

MENA | Sustainable Cities & Communities
SmartLand provides an automated irrigation and fertigation system linked to a mobile app for farmers. Sensing units relay soil data to a controller, which activates valves and pumps. The system automates fertilizer application, optimizing operations & enhancing sustainability.

Jordan | Clean Water & Sanitation
SmartWTI utilizes AI and IoT to revolutionize water management. Offering real-time monitoring and predictive analytics, the company enhances operational efficiency and promotes responsible water use. Aligned with UN SDG 6, SmartWTI addresses global water scarcity through data-driven, impactful solutions.

Lebanon | Good Health & Well-being
SoGlam, founded in Lebanon, specializes in crafting natural, eco-conscious beauty products that promote both sustainability and female empowerment. With a strong focus on ethical and eco-friendly elegance, their handmade products serve as a vibrant testament to quality and social responsibility.

Som Development Consultancy
Somalia | Gender Equality
Som Development Consultancy is a dynamic firm offering innovative solutions across diverse sectors, empowering businesses, organizations, and governments to reach their objectives. Specializing in expert guidance, the consultancy is a robust catalyst for growth in multiple sectors.
Kenya | Affordable & Clean Energy
SowPrecise focuses on climate-smart agriculture in arid regions of Kenya. The initiative promotes sustainable farming practices that are resilient to climate variability, empowering local communities for more productive agriculture.

Suncode offers solar dryers that use natural solar heat for crop drying, providing an eco-friendly alternative to fuel or electricity-based methods. This solution helps farmers save money while promoting sustainability.
Supa Bug is a sustainable waste management enterprise empowering urban slums through insect-bioconversion technology. It transforms waste into valuable feed and fertilizer, contributing to environmental sustainability.

Jordan | Sustainable Cities & Communities
Takween thoughtfully revitalizes cultural heritage through functional, artistic ceramics, inspired by traditional, intricate geometric patterns. Utilizing modern technologies and innovative techniques, the initiative also robustly empowers local communities via educational and enriching workshops.

The Alpha (Voellada Ventures)
Voellada Ventures, an ambitious Agri-value addition company, is on a mission to offer Kenyan small-scale farmers a reliable market for their seasonal fruits. This initiative aims to minimize fruit wastage, enhance food security, and stimulate local economic growth while delivering healthy snacks to consumers.

The Mining Gallery Africa
Kenya | Clean Water & Sanitation
The Mining Gallery Africa effectively empowers Africa's extractive industry with accessible, high-quality information and practical solutions. Catering to experts and novices alike, the team provides field-specific knowledge through concise reports, research, and easy-to-understand guidance.

Egypt | Peace & Justice Strong Institutions
Tram Alwaan blends art and sustainability to raise environmental awareness and empower women. In Cairo, they do workshops using waste materials, teaching eco-friendly crafts. They work with communities in experiential learning for a greener future.

UWYTA specializes in skillfully upcycling non-recyclable chips and chocolate wraps into functional, sustainable items like aprons, tote bags, and pouches. Expanding their eco-conscious mission, they now also creatively upcycle fabric waste to elevate their existing product line.

Tunisia | Decent Work & Economic Growth
WEeFARM is revolutionizing agriculture through cutting-edge digital innovation, linking farmers to resources that enhance productivity as well as sustainability. Using data analytics and IoT, the platform aims for more efficient, environmentally friendly farming.

Yna Kenya transforms urban mobility with a strong emphasis on gender equality. Services like E-Ride and Her Go offer eco-friendly options that specifically empower women. With a skilled team specializing in sustainability, they've partnered with Microsoft and Google.