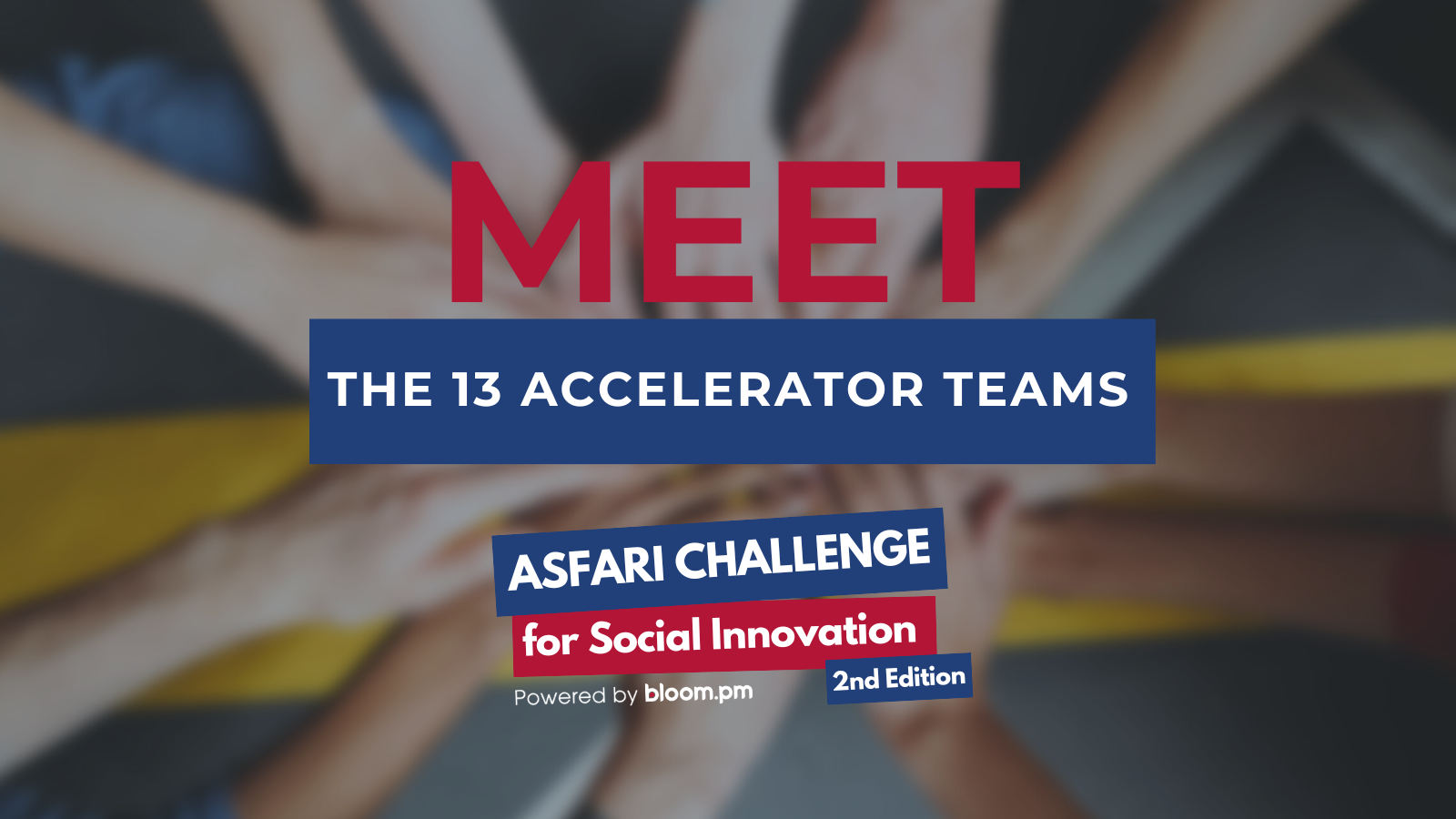 Join our Final Demo Day, and meet our teams!
We're thrilled to introduce the 13 amazing teams that made it past the Sprint phase into the ACSI2 accelerator!
The purpose of ACSI2 is to build the enterprises' capacity through training and mentorship facilitated by Bloom in partnership with the Asfari Foundation. Participating enterprises will develop their ideas and prototypes into functioning business ideas through Bloom's online platform, training pedagogy, networks of experts, and customized curriculum.
Don't miss our final demo day where these teams will present their progress, on May 2, 2023, at 4:30 pm Beirut Time! Sign up now!
 Now, onto the selected teams!
---
Bookerang is a platform that serves the community of book lovers, students & parents in an affordable way by renting books and handling them responsibly.
---
CancerCom is a digital solution that will transform the journey of cancer patients through increased accessibility to support and a multidisciplinary approach to treatment.
---
Takween integrates traditional patterns with modern technologies connecting us with our cultural identity through introducing ceramics tiles and everyday objects inspired by Islamic geometric patterns and regional embroidery using 3D modern technologies.
---
The Volunteering Marathon is a unique volunteering experience that brings 42 Volunteering missions with 42 different NGOs for 42 consecutive days all over the country.
---
Charpy Biochar aims to deliver biochar products to Lebanese agriculture and industries, valorizing local biomass resources, striving for increased productivity and efficient water and nutrient use, with climate change mitigation and adaptation as side effects.
---
Colea Agritech offers Innovative Olive Mill Wastewater Treatment Technologies, which help olive oil production businesses in the Mediterranean basin, bringing circularity and profitability into their supply chain while minimizing their environmental footprint.
---
Darrebni ICT is an online platform that connects trainees to top coaches and training institutes anywhere in the world. It promotes a wide variety of in-person and virtual opportunities to support personal and professional advancement.
---
Wordwave is creating a freelancing platform for the region that is specialized in content writing and provides training and programs from experts in the different content writing fields.
---
DonaLeb is a global social impact platform that connects people, corporations, and NGOs to achieve collective impact across causes and communities via virtual fitness challenges, with the goal of making the world a better and happier place.
---
Drive Green is a Lebanese-based startup whose main aim is to accelerate the shift to an electrified transportation sector in the MENA region. We do that by providing businesses with delivery services with a sustainable transportation scheme.
---
Jamra Plus is creating briquettes of charcoal from spent coffee grounds. Their charcoal is flammable, burns quietly, is free of chemicals, and is made from recycled material. The team is also working on converting organic waste (paper and cartons) into alternative clean energy.
---
Littera is your range of products to learn a language while you are having fun. Whether you are a parent supporting your child to acquire a new language, a teacher teaching how to write and read letters and words, or a professional strengthening the skills of an individual with difficulties, Littera was created for you.
---
Dekenet Al Nes is a store that includes all the basic needs for food & household products purchased in bulk quantities & sold without packaging, with very affordable prices to increase people's purchase power. Customers bring their own containers to buy their needs in the quantity they need, thus reducing packaging waste and food waste.
---
Congratulations! Well deserved. We can't wait to watch you grow. 🌻